20. Stop Procrastinating and Do the Next Right Thing (with Emily P. Freeman)
Powered by RedCircle
Well, y'all, after 19 podcast episodes, I'm finally feeling like I'm starting to get my feet underneath me and feel more comfortable with this whole podcasting. So, even though it scared me a lot, this is the first episode where I didn't plan out every word I was going to say.
That's a big deal for me as one of my big goals for this year is to be as comfortable on the podcast as I am on live video… but I keep reminding myself that it took at least 30-50 live videos before I started feeling confident. So I know it will take time with the podcast, too.
(In full disclosure, it's good for my pride for me to put out episodes that aren't at the level of excellence I'd love for them to be because I'm still finding my groove when it comes to doing pre-recorded audio — which is SO different to me than live video! And every time someone writes in about how they don't like the podcast because they can tell I'm uncomfortable, it's a good reminder for me to keep persevering and practicing and getting better!)
So I'm celebrating that I took tiny baby steps with this episode and didn't rely on word-for-word notes as a security blanket! And I hope that someday soon, I'll be able to record episodes with just a rough outline. Thanks for being on this learning and growing journey with me. Your encouragement and support has blessed me more than you know!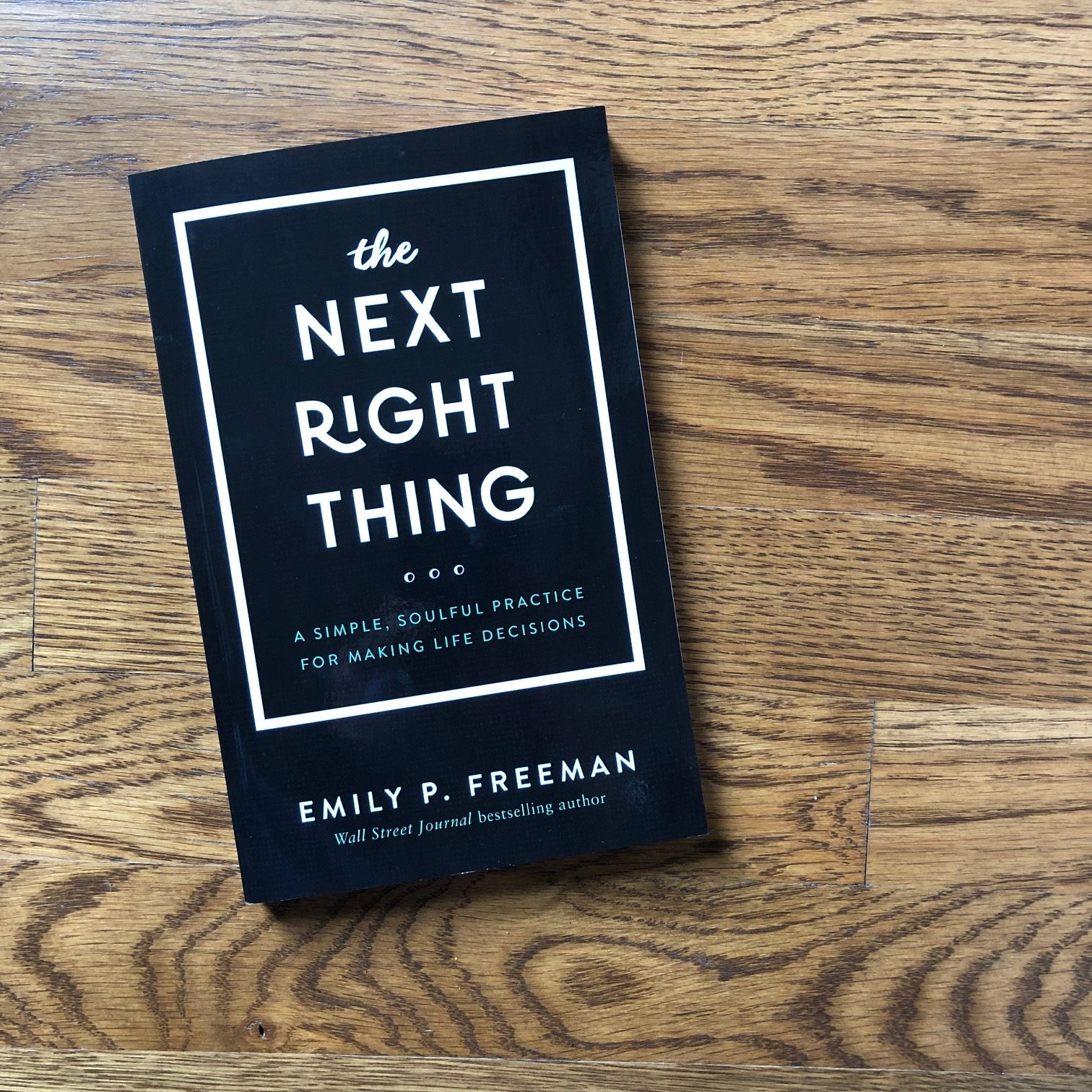 In this episode, I invited one of my very favorite podcasters — Emily P. Freeman — to join me for a conversation about decision-making. We talk about the best antidote for procrastination, how to know what your next right thing is, and why sometimes now is not the best time to jump into an idea you have.
I also ask Emily about her Theme Days and how this practice works out in her life and how it has helped her be a lot more focused and productive.
By the way, Emily's podcast (that I adore!) is called The Next Right Thing… and her brand-new book with the same title comes out in April. You can pre-order it here.
You'll want to tune in to this episode where Emily shares the story of how her amazing podcast was actually originally a book idea.
She started working on the book and then realized it wasn't supposed to be a book; it was supposed to be a podcast. But then, after a number of months of podcasting, she felt it was supposed to be book, too. 
I love how Emily is so honest in sharing her struggles with decision-making and what she has learned in her own life — even in podcasting and writing a book about decision-making!
In This Episode:
[01:12] – I gave up coffee a few years ago. I know, can you believe it? I share why I gave it up and what I'm drinking instead.
[05:38] – My book of the week is one that I listened to and one that I wanted to jump up and shout "preach it!" multiple times while I was listening to it! (And I'm not a charismatic person; this book was just THAT good!)
[09:20] – Emily Freeman has deeply inspired me through her writings and her podcast, and I'm so honored that she was willing to do an interview with me for this episode.
[11:30] – The Next Right Thing, Emily's podcast, was originally a book idea. I ask her how long of a process was it for her to decide to turn her idea into a podcast instead of a book? When did she know for sure that it wasn't supposed to be a book?
[14:53] – Struggling with decision-making? Emily shares some strategies for someone who needs to figure out what the next right thing is.
[17:57] – Emily makes a powerful point that many people would rather make a decision (even a bad one) than live with the uncertainty of not deciding.
[20:36] – Recently, Emily talked about how she structures her week with Theme Days. I asked her to share more about this in detail.
[25:48] – For today's Q&A segment, I answer a question from a listener about how I got off my allergy medications (and other medications/supplements I was taking for acne and anxiety!).
Links and Resources:
How to Listen to The Crystal Paine Show
The podcast is available on iTunes, Android, Stitcher, and Spotify. You can listen online through the direct player we'll include in the show notes of each episode. OR, a much easier way to listen is by subscribing to the podcast through a free podcast app on your phone. (Find instructions for how to subscribe to a podcast here.)
Ready to dive in and listen? Hit the player above or search for "The Crystal Paine Show" on your favorite podcast app.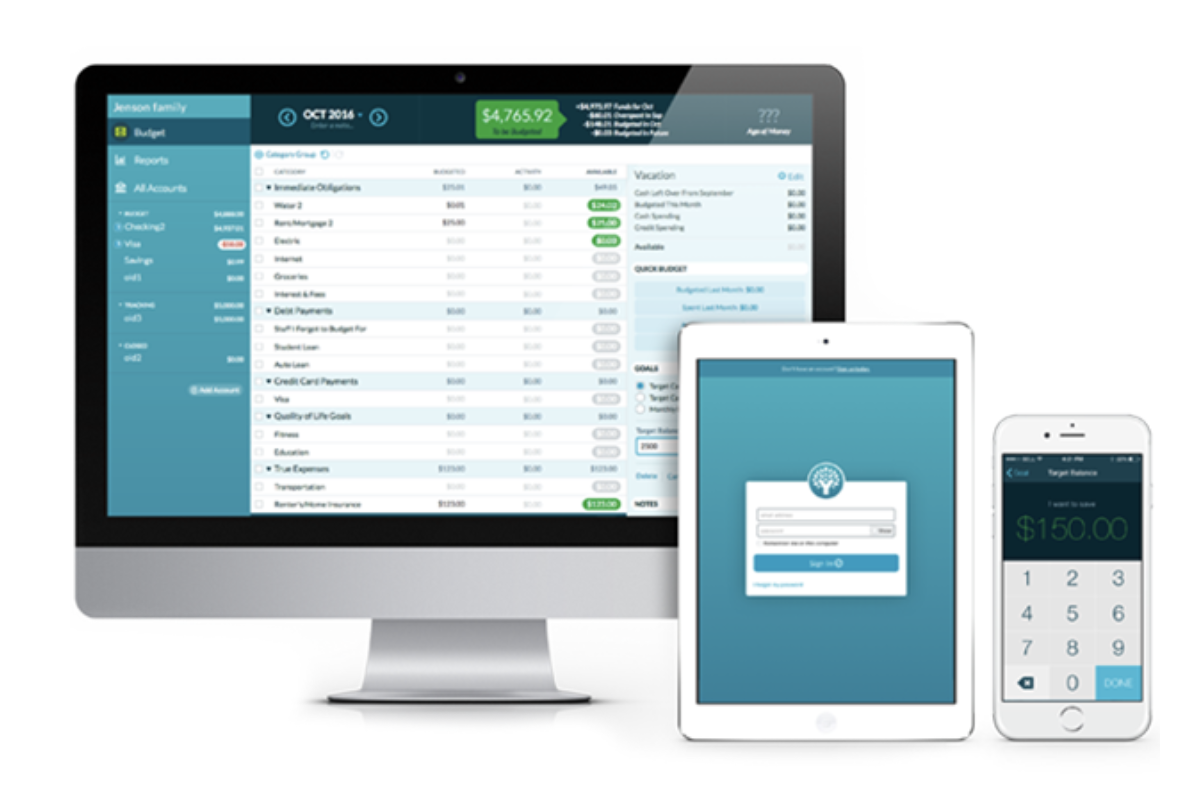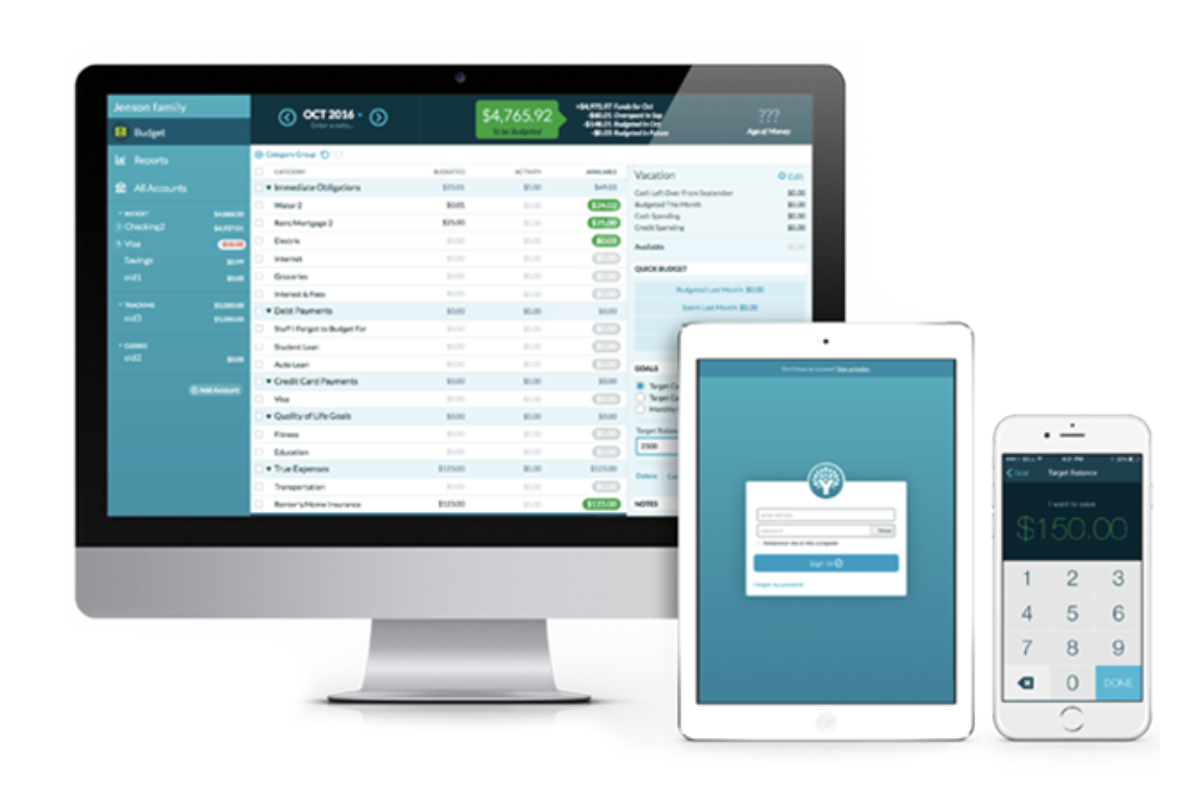 Sponsor Spotlight
This episode is sponsored by YouNeedaBudget.com — the budgeting software we have personally used for the past two years and absolutely love.
We were introduced to this budgeting software by my brother-in-law, Justin, a few years ago. He and my husband, Jesse, are both what I would lovingly refer to as "nerds".
You know the kind of people… those people who think spreadsheets are fun. And who geek out over features in Excel. Yup, those kinds of people.
You might as well poke my eyeballs out with a hot iron rod than get to me be giddy over creating spreadsheets. But nevertheless, I love Spreadsheet Nerds because they help keep people like me in line and on track! 
Anyway, it was around Christmas time and Justin started telling Jesse about YouNeedaBudget — what we call YNAB for short. Jesse and I had both heard of this software before, but we had been using Quicken for so long that we'd not considered changing to anything else.
Well, when Jesse saw the features of YNAB, he was intrigued enough to sign up for the free trial. And it was pretty much love at first sight.
Truthfully, I can't even begin to tell you how often I've heard him exclaiming to me, to friends, or just to himself something about, "How cool and helpful YNAB is!"
I'm such a pen and paper and cash girl, but after all his raving reviews, I finally gave in and downloaded it on my phone and had him show me how it works. It's really, really impressive. I love how we can see exactly how we're doing in every budget in just one glance.
And since we have multiple budgets for our businesses and personal, it allows us to track them all in one app. Which is so handy!
They usually only offer a 30-day trial, but they are giving you all a FREE 60-day trial so you can really get a feel for it and see how well it works. 
Note: This post contains affiliate links. If you click through and make a purchase, we may receive a small commission — at no additional cost to you. Thank you so much for your support!