7. 10 Minutes a Day to Less Stress and Better Health (with Bonnie Gray)
Powered by RedCircle
Do you struggle to find white space in your life? Do you feel like you're always running behind or just barely surviving? Do you wish you could find a way to slow down and savor life more?
In today's episode, we're going to talk about how you can invest 10 minutes a day to give you less stress and better health. Sound too good to be true? Well then listen in! 🙂
I also share about a book that made my Top 10 list for 2018, a recipe I have been eating every single day, and how I stopped trying to stuff my brilliantly creative, sometimes-messy daughter into a neat and orderly box and how it changed both of our lives for the better.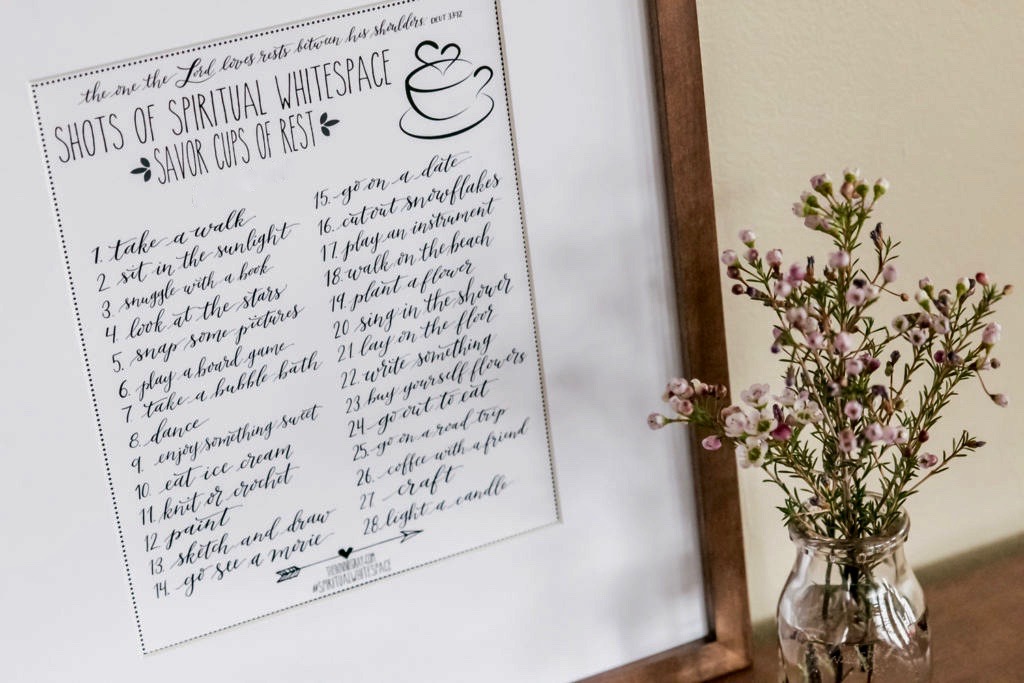 A Special Freebie For You

Bonnie is offering two free resources to my followers that you can download: 10 Practical Ways to Create Spiritual Rest (a book excerpt) + 33 simple ideas to enjoy rest from Finding Spiritual Whitespace and 28 Rest Ideas — a beautiful, hand-lettered calligraphy printable. Download them here for free.
In This Episode:
[00:26] – I talk about a movie that Jesse and I recently went and saw (one of the perks of being self-employed!).
[04:27] – This week, what's saving my life is actually a recipe for banana bread… you'll have to listen to the episode to find out just why that is! 🙂
[05:44] – My book pick this week is one I read a number of months ago, but it is totally making it to my Top 10 Books Read list for 2018!
[07:50] – This week's guest, Bonnie Gray, shares some practical ways women can carve out more rest and white space in their lives — in just 10 minutes or less each day!
[16:15] – Bonnie shares how she and her husband have started creating white space for each other, which has strengthened their relationship. 
[17:51] – What is Bonnie reading right now? She talks about 4 different books — and how reading has helped her have more white space in her life. 
[19:24] – Have you ever tried setting your phone to "do not disturb" mode? Bonnie shares how she uses this feature on her phone.
[21:12] – In today's Q&A segment, I answer a question on the best way to raise and nurture a child who is very different from you.
Links and Resources Mentioned in the Show:
How to Listen to The Crystal Paine Show
The podcast is available on iTunes, Android, Stitcher, and Spotify. You can listen online through the direct player we'll include in the show notes of each episode. OR, a much easier way to listen is by subscribing to the podcast through a free podcast app on your phone. (Find instructions for how to subscribe to a podcast here.)
Ready to dive in and listen? Hit the player above or search for "The Crystal Paine Show" on your favorite podcast app.
Sponsor Spotlight

Today's episode is sponsored by Twigby — a company dedicated to providing fantastic phone service at great prices. As I mentioned in the podcast, if you are looking for a great deal on a phone for your teen (or yourself!), I'd highly recommend checking out what Twigby has to offer.

Unlike traditional cell phone companies, they give you the ability to create your own custom, prepaid plan — without a contract or an unnecessary activation fee.

You don't have to mess with going to a store and picking out a phone plan. You just go to their site, pick your phone plan and either switch your current phone over or get a new phone, and they get it all set up for you.

My favorite part about their service (in addition to their great prices!) is that they offer plan flexibility with the ability to change plans or phones at any time for free. You're not locked into an expensive contract that has activation and termination fees.

They also offer Free Overage Protection, so you can rest easy in knowing that you will never be charged for overages without your go-ahead! You have complete control.

Special offer! Want to save 25% off your first 6 months of Twigby? Click here.
Note: This post contains affiliate links. If you click through and make a purchase, we may receive a small commission — at no additional cost to you. Thank you so much for your support!