142. Worship Suffocates Worry (with Katie Reid)
Powered by RedCircle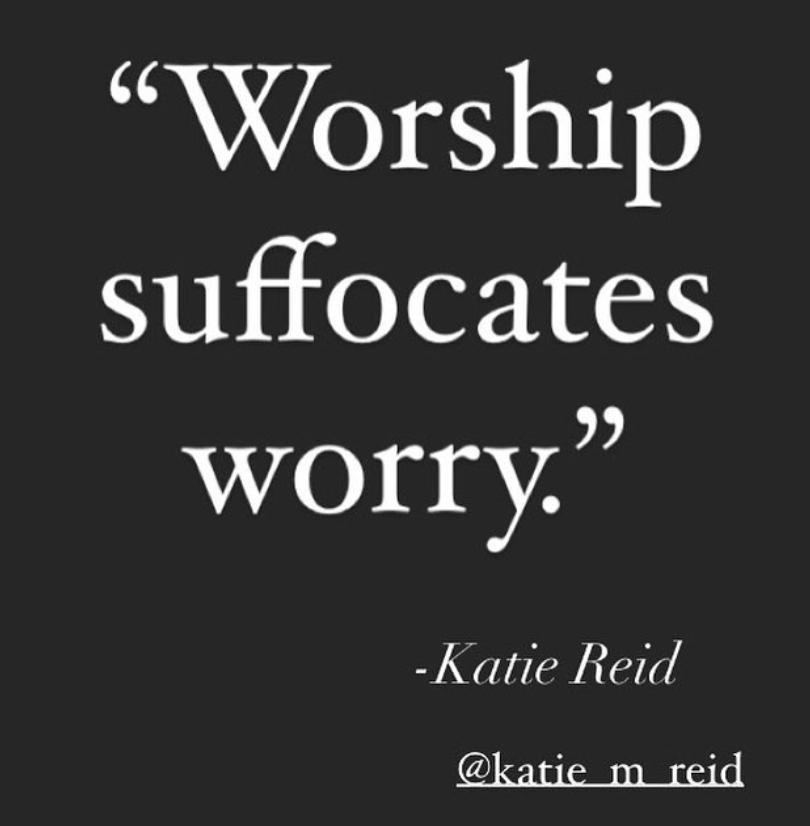 "Worship suffocates worry." This powerful quote by Katie Reid has been challenging me ever since I read it in her book, Made Like Martha: Good News for the Woman Who Gets Things Done.
When I'm feeling worry creeping in, when I'm starting to stress over the what if's or unknowns, I want to choose worship instead.
This might mean turning on worship music and singing along (there's something about singing about the goodness and faithfulness of God that just changes your perspective and outlook!)
Or, it might look like spending some time praising the Lord and calling out His attributes and character. (Growing up, my Mom would sometimes have us come up with something to praise God for with every letter of the alphabet. Once you get started, it's hard to stop! There's so much to praise!)
It could also look like reading Scripture about His promises and trustworthiness and reminding ourselves of these truths. However it looks for you, will you join me in choosing worship instead of worry today? "Worship suffocates worry."
This week on the Crystal Paine Show, I invited Katie on to share more about this concept and how to live a life of worship instead of a life of worry. I believe this episode will really encourage you — especially if you are someone who is a do-er, fixer, and problem-solver and you struggle to just rest and let go.
In This Episode
[00:37] – We're tackling the topic of worship versus worry today with Katie Reid.
[01:33] – Katie shares a little about her family — I resonate with her having 5 kids and a large age range!
[03:22] – We talk about her book Made Like Martha and what it looks like to be a Martha and a Mary.
[07:51] – What it looks like to worship instead of worry, and why worship suffocates worry.
[10:55] – "We can starve worry when we feast on worship."
[12:49] – Do you feel like there are a lot of times when we're worrying and we just don't even realize that we are worrying?
[15:26] – What does it look like to choose worship over worry?
[17:33] – How have you let go of that burden and that weight of feeling like it's all on you, to carry everyone else and to make sure it all works out?
[20:05] – "Delegation is not weak, it's actually wise."
[22:04] – How can you wisely decide what to say yes to and what to say no to? 
Links & Resources
Books
Follow Katie Online
Special Mentions
Verses

Luke 10:38-42,

Bible.com

Other Links
My Instagram account (I'd love for you to follow me there! I usually hop on at least a few times per day and share behind-the-scenes photos and videos, my grocery store hauls, funny stories, or just anything I'm pondering or would like your advice or feedback on!)
Have feedback on the show or suggestions for future episodes or topics? Send me an email: crystal @ moneysavingmom.com
How to Listen to The Crystal Paine Show
The podcast is available on iTunes, Android, Stitcher, and Spotify. You can listen online through the direct player here. OR, a much easier way to listen is by subscribing to the podcast through a free podcast app on your phone. (Find instructions for how to subscribe to a podcast here.) Ready to dive in and listen? Hit the player above or search for "The Crystal Paine Show" on your favorite podcast app.