157. Why Your Prayers Might Not Be Answered
Powered by RedCircle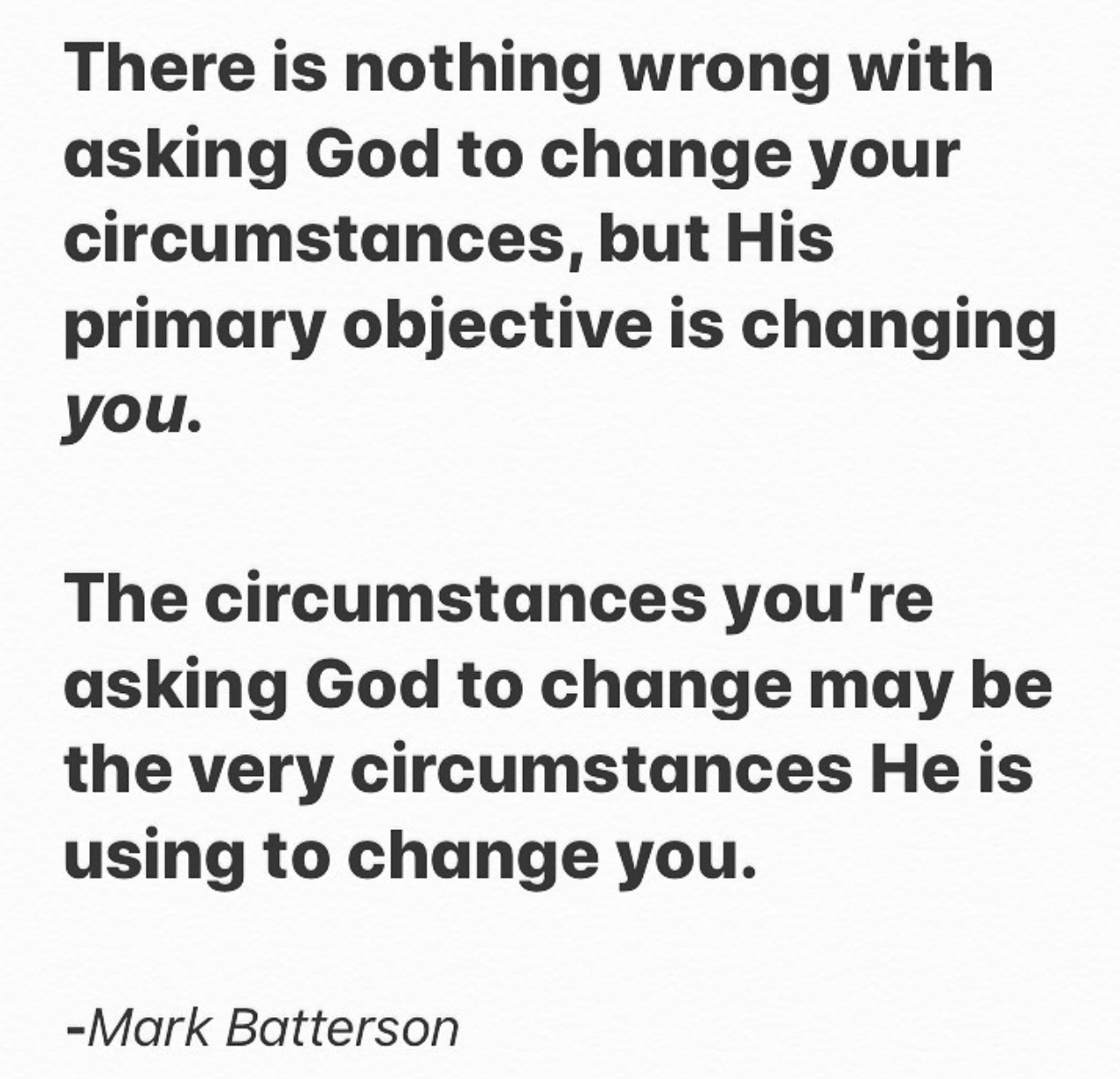 I recently shared a little bit about prayer on Instagram in answer to a woman's question about praying to change her husband. I got so many responses from what I shared and many followup questions, that I wanted to focus this podcast episode on that topic.
First off, I think we often have a false sense of what prayer is. It's not about bringing our laundry list of things we want changed and fixed to God; it's about a relationship with Him. It's about releasing our desire to control and micromanage life and give it to our Heavenly Father and entrusting our struggles and stresses to Him.
Ultimately, prayer isn't about changing and fixing other people or situations; it's about changing us. I love this quote by Mark Batterson (above) that I recently read in his book, Win The Day.
In this week's podcast episode, we dive more into what prayer is, what it looks like, and why your prayers might not be getting answered (or maybe they are, but you just don't realize it!).
In addition, Jesse and I update you on his anniversary gift that finally arrived, I share two things that are saving my life, we talk about caffeine and teens, and I share about a book I recently finished reading with Kierstyn.
In This Episode
[00:34] – Welcome to another episode of The Crystal Paine Show.
[00:48] – Jesse and I talk about decaf coffee and caffeine… and teens!
[02:34] – I introduce today's topic: prayer.
[03:03] – The thing that everyone is asking about: did Jesse get his anniversary gift?
[04:05] – I share how peanut butter and jelly is saving my life.
[06:57] – We're loving the Water Wow books by Melissa and Doug!
[08:31] – I have a book update for the young kids.
[10:54] – This week's podcast sponsor: Twigby!
[12:48] – Let's talk about prayer and what inspired this topic.
[13:38] – I don't believe the purpose of prayer is about changing our circumstances or changing people in our life.
[14:44] – We think of answered prayer as in "we got the thing that we wanted, we got the outcome that we wanted". But "no" or "wait", is also an answer.
[15:29] – I read a quote from the book Win the Day by Mark Batterson.
[18:31] – I have really been convicted about how I pray for other people.
[20:00] – Sometimes God doesn't answer the prayer in the way we want Him to because He has plans for us years and years down the road.
[21:10] – Why are we praying what we're praying? So often when I pray now, I am not praying for an end result. I am praying for right here and now.
[23:58] – Prayer is one side of a two-sided conversation. View it as a conversation and this can change the way you approach it.
Links & Resources
Books
Jesus Storybook Bible by Sally Lloyd-Jones
Win The Day by Mark Batterson
Special Mentions
Water Wow books by Melissa and Doug
Other Links
My Instagram account (I'd love for you to follow me there! I usually hop on at least a few times per day and share behind-the-scenes photos and videos, my grocery store hauls, funny stories, or just anything I'm pondering or would like your advice or feedback on!)
Have feedback on the show or suggestions for future episodes or topics? Send me an email: crystal @ moneysavingmom.com

Sponsor Spotlight: Twigby
Do you wish you could pay less for your phone service? Wishing you could figure out how to get access to great service/coverage without having to break the bank?
I highly recommend checking out Twigby!
Twigby is a company dedicated to providing fantastic phone service at great prices and they are the perfect option for budget conscious families because they are so affordable! They also offer great coverage from the nation's largest and most reliable network (yep — Verizon!) and have many different options for phone plans.
Twigby has plans starting as low as $9 per month for just talk and text. And data plans start as low as $20 per month (with unlimited talk & text)! Even a cell phone plan with unlimited talk and text and 10 GB of data only costs you $35 per month — which is a lot less than you'll usually pay!
With these kinds of prices, it's worth checking to see if Twigby might save you money each month on your family cell phone bill — even if you've been on a family plan with a provider for a decade!
Get this: The average family that switches to Twigby saves $80 on their cell phone bill, which equates to an annual savings of $960! See how much you could save with Twigby's handy dandy calculator (click on "compare us" up top!)
Want to give Twigby a try? If so, you'll currently save 50% off your first six months of phone service! Wow!!
But that's not all! On top of this already amazing Twigby discount, our readers can also get a $15 credit when you use code FAMILY at checkout during sign-up!
Note: This $15 credit will be applied to your account when you purchase a new phone, get a free SIM card from Twigby with a new service, or bring your own phone to use.
Valid through March 31, 2022.
(And if you're not completely satisfied within 30 days of activating your service, you'll get a full refund!)