158. When you feel hurt and offended…
Powered by RedCircle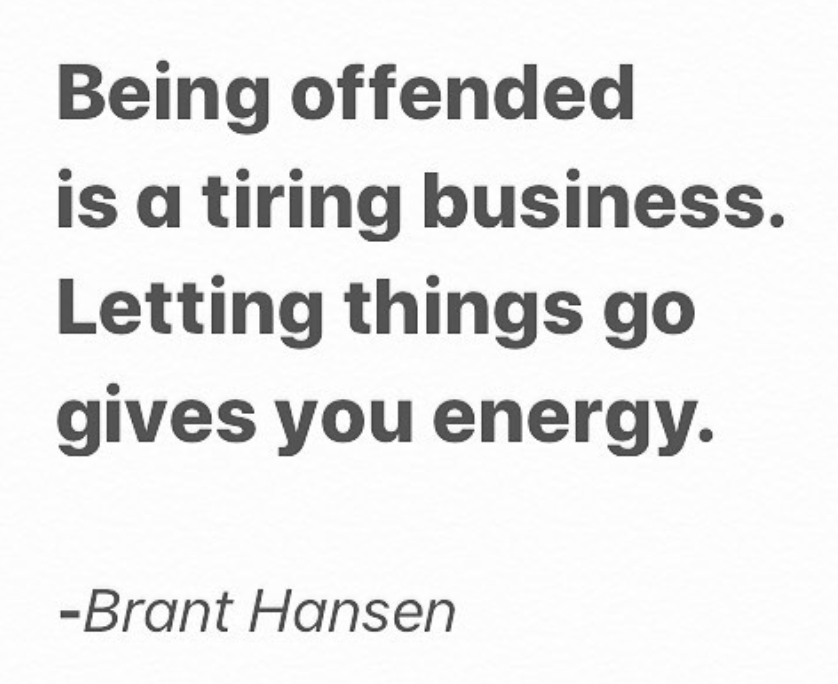 Have you noticed how in this modern age of social media, people are so easily hurt, upset, and offended? I know that I've fallen prey to knee jerk reactions when scrolling online.
In this episode, Jesse and I talk about this book I'm reading by Brant Hansen called Unoffendable: How Just One Change Can Make All of Life Better. Hansen challenges us to ask the question, "How would it change my life if I chose not to be offended by others?"
Some of you may be thinking, "But how do I even do that? You don't know what this person has done or said (or not done or not said)." I don't, but I do know this: We get to choose how we respond. We can't choose how other people treat us or respond to us or what they say to us or do to us, but we can choose our response.
This doesn't mean that we let people walk all over us or that we don't set boundaries, but it does mean that we can choose to either be a victim or a victor. We can choose to either be offended and hurt and upset, or we can acknowledge our feelings, grieve our loss, and choose to forgive.
In this episode, we dive into this topic + we talk about Silas' recent Science Fair, an early preschool curriculum we started with Kierstyn and are loving, and what's saving our lives.
In This Episode
[00:34] – Welcome to another episode of The Crystal Paine Show.
[01:03] – Today is the first time we have recorded a podcast — in PJs!
[05:58] – Speaking of PJ's, we are excited to finally be sleeping through the night again!
[08:07] – But that has come with some crazy dreams for me.
[10:11] – What's saving our life.
[11:31] – Yesterday we made Oobleck, if you haven't done that with your kids it is so much fun.
[12:28] – We have been getting a lot of kind feedback from our audience.
[12:54] – I read a couple of notes from our audience.
[15:50] – There are no perfect families, no perfect parents, and no perfect children.
[16:29] – Sponsored Ad: Twigby
[18:46] – Today's topic is inspired by Brant Hansen's book, Unoffendable.
[20:47] – Years and years of being on the internet has confirmed this: it's hard to say anything without offending someone.
[22:41] – I feel like there is some much that we can learn from people on the internet. But it's so easy for a little thing to turn into a really big thing.
[25:43] – We get to choose how we respond.
[27:58] – It's okay to acknowledge anger, but it's what we do with it.
[28:08] – Before rashly reacting, stop… take a breath, and really ask God to help us love others well.
[31:31] – Jesse shares a concept about backing away from an issue when you have an immediate emotional response.
Links & Resources
Books
Unoffendable: How Just One Change Can Make All of Life Better by Brant Hansen
Special Mentions
My Father's World, preschool curriculum
Other Links
My Instagram account (I'd love for you to follow me there! I usually hop on at least a few times per day and share behind-the-scenes photos and videos, my grocery store hauls, funny stories, or just anything I'm pondering or would like your advice or feedback on!)
Have feedback on the show or suggestions for future episodes or topics? Send me an email: crystal @ moneysavingmom.com

Sponsor Spotlight: Twigby
Do you wish you could pay less for your phone service? Wishing you could figure out how to get access to great service/coverage without having to break the bank?
I highly recommend checking out Twigby!
Twigby is a company dedicated to providing fantastic phone service at great prices and they are the perfect option for budget conscious families because they are so affordable! They also offer great coverage from the nation's largest and most reliable network (yep — Verizon!) and have many different options for phone plans.
Twigby has plans starting as low as $9 per month for just talk and text. And data plans start as low as $20 per month (with unlimited talk & text)! Even a cell phone plan with unlimited talk and text and 10 GB of data only costs you $35 per month — which is a lot less than you'll usually pay!
With these kinds of prices, it's worth checking to see if Twigby might save you money each month on your family cell phone bill — even if you've been on a family plan with a provider for a decade!
Get this: The average family that switches to Twigby saves $80 on their cell phone bill, which equates to an annual savings of $960! See how much you could save with Twigby's handy dandy calculator (click on "compare us" up top!)
Want to give Twigby a try? If so, you'll currently save 50% off your first six months of phone service! Wow!!
But that's not all! On top of this already amazing Twigby discount, our readers can also get a $15 credit when you use code FAMILY at checkout during sign-up!
Note: This $15 credit will be applied to your account when you purchase a new phone, get a free SIM card from Twigby with a new service, or bring your own phone to use.
Valid through March 31, 2022.
(And if you're not completely satisfied within 30 days of activating your service, you'll get a full refund!)