169. Helping our teens deepen their relationship with Jesus (with Angela Perritt)
Powered by RedCircle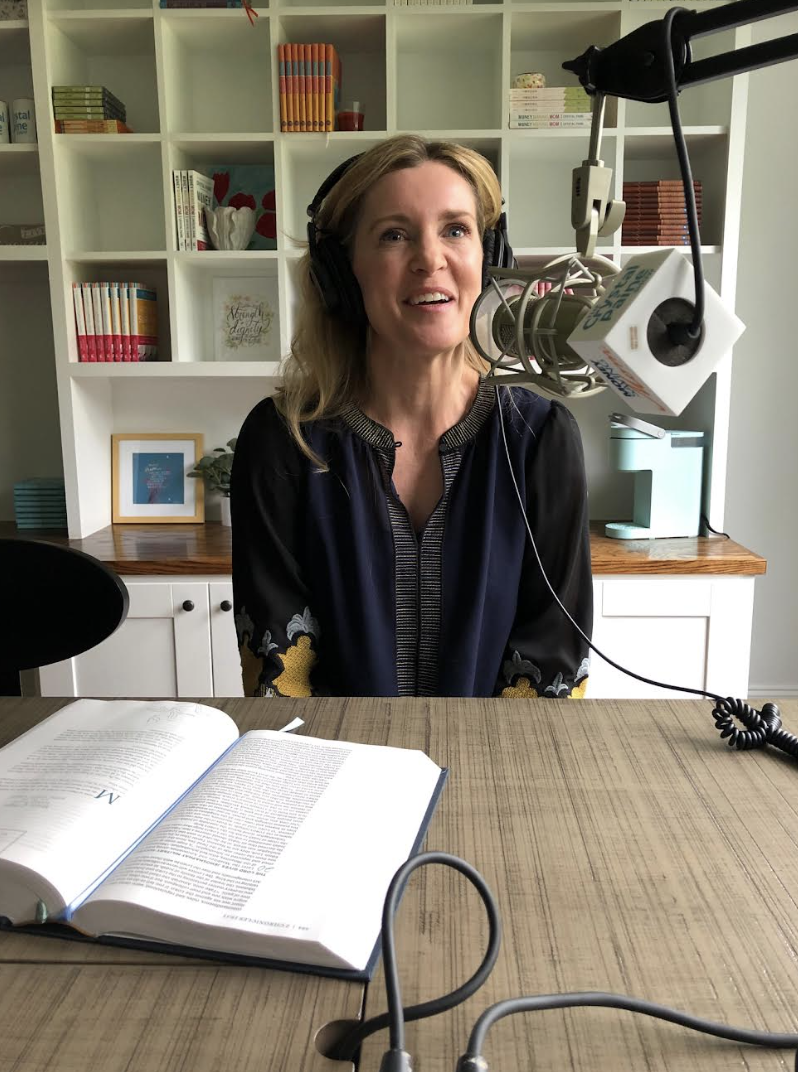 I hear from so many moms who ask for suggestions on how to help their teens develop a closer relationship with Jesus. So I'm excited to have Angelia Perritt joining me in the studio for this conversation. She has three daughters and she just released a beautiful new bible called, Young Women Love God Greatly Bible.
In this week's episode, we start by talking about how we can cultivate a relationship with Jesus ourselves as moms. Angela and I discuss some practical ways for us to study the Bible and take what we read and apply it to our daily lives. What if you have questions or doubts? Angela addresses that, too.
We then talk more about ways to encourage our teens to trust in God's faithfulness and that following Jesus doesn't mean they'll always get everything right and how we can show grace as they wrestle through what they believe. I especially loved what Angela shared about creating a safe space for our kids in our homes and in our relationships.
I hope this episode inspires you with ideas and encouragement. And I'd love to hear what tips or advice you would add!
In This Episode
[00:34] – Welcome to another episode of The Crystal Paine Show.
[01:12] – Angela shares a little about her background and family and talks about putting together this Bible
[05:46] – I think there are so many teens right now who are really questioning the existence of God and also the goodness of God.
[06:35] – How do you wrestle with this, with your girls?
[09:06] – Could a girl who has no exposure to the Bible pick this one up and understand it?
[13:16] – Have you always known how to study scripture?
[15:37] – Angela shares how she is instilling the love of God in her home and with her family.
[17:31] – Angela gives advice on taking the time to reading God's word.
[21:00] – What encouragement do you have for a mom, who is seeing her teenager struggle?
[24:40] – How do you cultivate that safe space?
[26:30] – What is the one thing you would want to tell the mom who has heart for God?
[29:40] – You can connect with Angela on her website, Love God Greatly.
Links & Resources
Links & Resources

Books
Young Women Love God Greatly Bible by Angela Perritt & Thomas Nelson
Love-Centered Parenting by Crystal Paine
My Instagram account (I'd love for you to follow me there! I usually hop on at least a few times per day and share behind-the-scenes photos and videos, my grocery store hauls, funny stories, or just anything I'm pondering or would like your advice or feedback on!)
Have feedback on the show or suggestions for future episodes or topics? Send me an email: crystal @ moneysavingmom.com
Do you have kids who love science, technology, or STEM-related activities? If so, you might want to check out CodeSpark Academy — an online program that teaches kids ages 5-9 how to code and use critical thinking skills.
CodeSpark is the #1 learn-to-code app, teaching kids the ABCs of coding and basic computer programming skills — all without having to know how to read!
Based on research-backed curriculum from MIT and Princeton, this highly-rated educational app features hundreds of activities and games designed to teach kids the fundamentals of computer science and introduce them to the world of STEM.
In additional to learning how to code, this app also teaches basic problem-solving and logical thinking skills, encourages profound creativity, instills persistence and resilience, and boosts confidence in kids.
Better yet, the games are so fun to play, most kids won't even realize they're learning while playing!
When you sign up for your first FREE month of CodeSpark Academy, you get:
Unlimited coding challenges
New skills every week
Hundreds of educational puzzles
Unlimited access to their creativity suite
Free CodeSpark Academy 30-Day Trial
Right now CodeSpark Academy is offering our readers/listeners an exclusive deal to get a FREE 30-day trial! Typically, you only get a free 7-day trial, so this is a really great opportunity for your kids to try it out and see if they like it!
Note: When you take advantage of this offer, you're signing up for auto-renewal at the regular price of $9.99 per month. If you love the program after your free trial, you can continue. If you want to cancel after your free trial, just be sure to cancel the auto-renewal in your account to avoid getting charged.