22. How to Be Brave (with Melissa Radke)
Powered by RedCircle
I was kind of giddy about doing today's interview… because I had listened to Melissa Radke's audiobook, Eat Cake, Be Brave, and had fallen in love with her hilarious, tell-it-like-it-is honesty and couldn't wait to get to talk to her in person (well, it was actually over Skype, but that was a big step up from just listening to her on audiobook!)
In our conversation, we dig deep into bravery, forgiveness, and rising about negativity. As Melissa explains, bravery doesn't always mean jumping out of a plane, scaling Everest, or not feeling fear or nervousness in your everyday life.
Instead, being brave means to just keep showing up, even when things get hard. And she definitely understands things being hard! She's gone through a lot of disappointment, hurt, loss, and heartache in her life. But she hasn't let those hold her back from continuing to show up.
You won't want to miss this powerful episode with a truly incredible guest. If you've been struggling with forgiveness, fear, anxiety, insecurity, and trying to be brave (and don't we all struggle with those things sometimes?), I think Melissa's wisdom will truly touch you deeply and offer you practical encouragement and inspiration on how to move forward.
In This Episode:
[01:57] – I talk about what's saving my life this week: how I'm making time for reading. Listen in for my tips on how I'm typically fitting in 30-60 minutes of reading every day. Hopefully it will give you some ideas on how you, too, can fit in more reading time! 
[04:16] – This parenting book is one I can't stop talking about — and truly loved!
[07:46] – I think you are going to LOVE today's guest, Melissa Radke! She is hilarious but is also such a truth-teller.
[11:14] – Melissa talks about bravery, how she's facing her fears right now, and how she still struggles with being brave. She lets us in on what bravery looks like for her and the hard-won lessons she's learned on how to be brave.
[14:18] – One of the parts of the book that was deeply moving to me was when Melissa shares about forgiving the woman who had an emotional affair with her husband. This woman also happened to be her very best friend. She shares openly about what this was like to walk through this — and to write about it in the book.
[19:25] – Melissa offers powerful words to women who are struggling to hold onto their dreams and goals despite critical words being directed at them.
[23:50] – We change gears to a much more lighthearted tone and talk about a book Melissa is reading that she assumed many other guests have talked about. (Surprise! No one has!)
[24:34] – And then we talk about bacon and air fryers… and you just might need to order one after you hear this part of the podcast! 🙂
[27:04] – Today's Q&A question comes from Jeanette, who wants to know how to get teens to keep their room clean. I give some caveats before I share my thoughts on this! 🙂
Links and Resources:
How to Listen to The Crystal Paine Show
The podcast is available on iTunes, Android, Stitcher, and Spotify. You can listen online through the direct player we'll include in the show notes of each episode. OR, a much easier way to listen is by subscribing to the podcast through a free podcast app on your phone. (Find instructions for how to subscribe to a podcast here.)
Ready to dive in and listen? Hit the player above or search for "The Crystal Paine Show" on your favorite podcast app.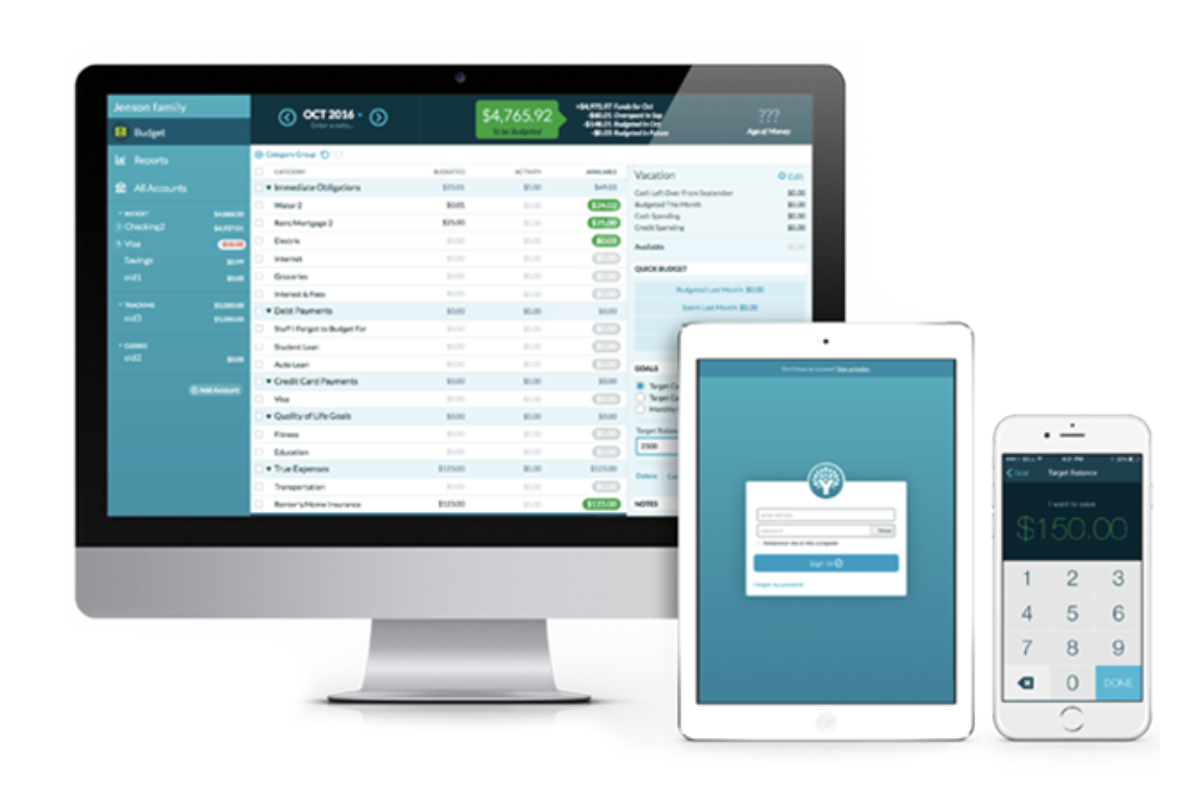 Sponsor Spotlight
This episode is sponsored by YouNeedaBudget.com — the budgeting software we have personally used for the past two years and absolutely love.
We were introduced to this budgeting software by my brother-in-law, Justin, a few years ago. He and my husband, Jesse, are both what I would lovingly refer to as "nerds".
You know the kind of people… those people who think spreadsheets are fun. And who geek out over features in Excel. Yup, those kinds of people.
You might as well poke my eyeballs out with a hot iron rod than get to me be giddy over creating spreadsheets. But nevertheless, I love Spreadsheet Nerds because they help keep people like me in line and on track! 
Anyway, it was around Christmas time and Justin started telling Jesse about YouNeedaBudget — what we call YNAB for short. Jesse and I had both heard of this software before, but we had been using Quicken for so long that we'd not considered changing to anything else.
Well, when Jesse saw the features of YNAB, he was intrigued enough to sign up for the free trial. And it was pretty much love at first sight.
Truthfully, I can't even begin to tell you how often I've heard him exclaiming to me, to friends, or just to himself something about, "How cool and helpful YNAB is!"
I'm such a pen and paper and cash girl, but after all his raving reviews, I finally gave in and downloaded it on my phone and had him show me how it works. It's really, really impressive. I love how we can see exactly how we're doing in every budget in just one glance.
And since we have multiple budgets for our businesses and personal, it allows us to track them all in one app. Which is so handy!
They usually only offer a 30-day trial, but they are giving you all a FREE 60-day trial so you can really get a feel for it and see how well it works. 
Note: This post contains affiliate links. If you click through and make a purchase, we may receive a small commission — at no additional cost to you. Thank you so much for your support!